I was a day seem to be full with disappointment for Chelsea, yesterday i was sitting back with a look of lost hope watching as the game went on.
No goals in the first half of the game was a big problem for Chelsea base on our standard and the the team we were up against.Stoke City
Then things turn for the worst in the 60th minute when Stoke City Scored
Michael Ballack of Chelsea is challenged by Andy Wilkinson of Stoke City.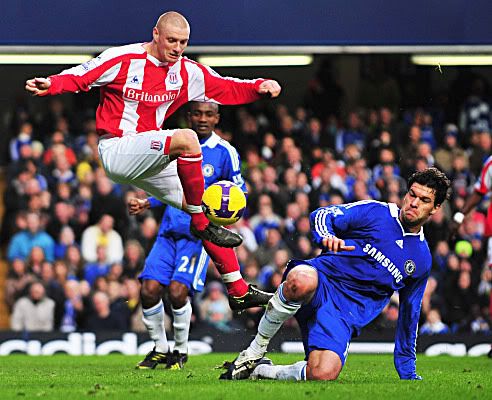 .
It seems that all was lost until in time added on Chelsea pull one back from a header by a late substitute
Juliano Belletti , then in the 92 min, 1) Frank Lampard Scored a cracker from about 18 yards out,as you can see the ball int he back of the net in this photo
which had me jumping a screaming, i was so relieve and overjoyed